About CRISM
Addiction research in Canada suffers from geographic isolation of research groups as well as limited communication between service providers and academic research teams.  This has hindered intervention research and translation and incorporation of evidence into prevention and treatment programs.  To address these gaps, the Canadian Institutes of Health Research (CIHR), through its Institute for Neurosciences, Mental Health, and Addiction (INMHA), has developed the Canadian Research Initiative in Substance Misuse (CRISM). 
CRISM is a 5-year initiative and was modeled, in part on the US National Institute on Drug Abuse's Clinical Trials Network.
CRISM was designed to facilitate communication and collaboration among addiction service providers, researchers, and policy-makers.  In September 2015, four regional CRISM Nodes began operations, one each located in BC, the Prairies, Ontario, Québec, and the Atlantic region.
In order to address our objectives, we have formed a Prairie CRISM Node to link together individuals in Alberta, Saskatchewan and Manitoba who are interested in working toward accomplishing these goals.
Our infographic provides a quick overview of current CRISM activities.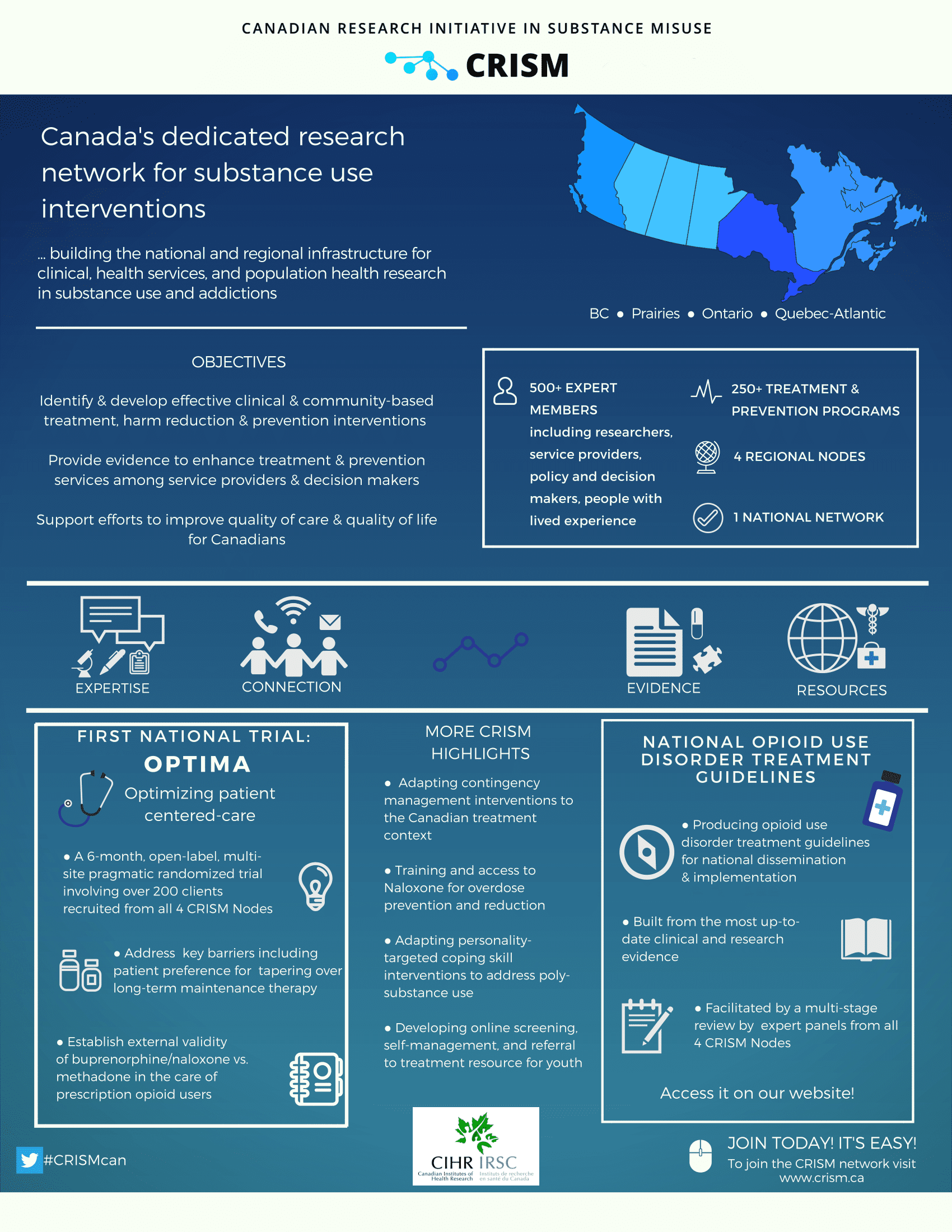 Links to CRISM network and node reports can be found here.
Link to CRISM Prairie Node CIHR applications can be found here

National Objectives
Identify and/or develop the most appropriate clinical and community-based interventions for substance misuse/addiction, including at the level of:

prevention
harm reduction
specialty-based addiction treatment

Provide evidence to support the enhancement of prevention and treatment services regarding substance misuse/addiction to decision makers and service providers;

Support improvement in the quality of care and quality of life for Canadians living with substance misuse/addiction.