Ceremonies with our Elders
November 12, 2016
On November 12 2016 Cam Wild, David Hodgins, Colleen Dell, Denise Adams, and Barbara Fornssler attended ceremony hosted by Elders Jerry Saddleback, JoAnn Saddleback, and Terry Daniels in Maskwacis, AB. Many of you will remember meeting JoAnn and Terry during the Prairie Node meeting in June of this year.
This gathering was an opportunity to share knowledge, ideas, and good humour as we sought to build understanding and engage what JoAnn called an articulation of the deeper philosophies that may be put into action for the work ahead. We look forward to this journey together. We offer our gratitude once more for the honour of participating in ceremony and to share in the wisdom of the teachings provided. Thank you!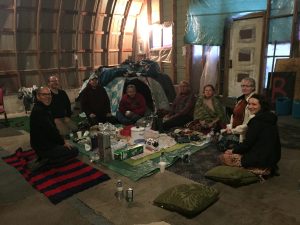 March 4, 2017
On March 4, 2017 members of the Prairie Node participated in a ceremony hosted by Elder Terry Daniels at Sturgeon Lake, SK.